this weekend we took our 19 month old, 1 month old and our 2 dogs camping along with my parents, my twin and her family.
my crazy 19 month old had an absolute blast. here he is getting ready to leave and was just a little excited :)
he didn't stop playing until he literally passed out for a nap or for bed. it was SO fun and we can't wait to do it again.

jakson got to do so many fun things while camping...

he played outside ALL day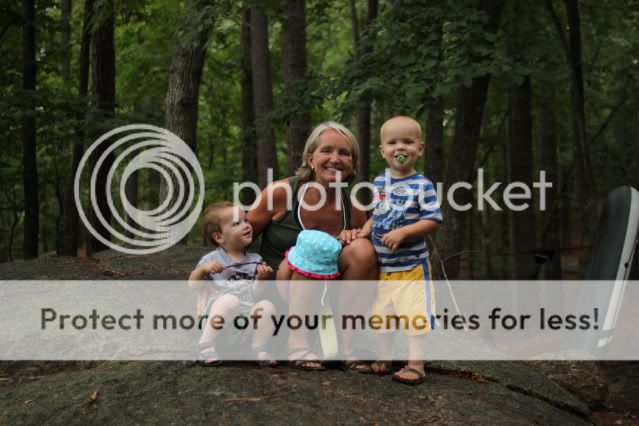 he had fun on the boat



he roasted marshmellows for some yummy s'mores :)



he played with crickets



he went fishing



he held a slimy fish (yuck)



slept under the stars

he even ate rocks even though i think he quickly regretted that decision.

Henry did awesome this weekend too.


he is such an easy going little guy! Henry coo'ed for the first time while we sat under the canopy waiting for a storm to pass over us :) yay! i bet he will be a smiley little guy just like his big brother!


...day 3 of no shower, don't judge ;)

We even played with teeny tiny frogs



oh yeah and we ate, and ate and ATE!



here is a picture of jakson and henry tate's sweet cousin Tinsley Mae :)

we bought a new tent for this trip so that we could fit our blow up mattress, pack and play, and moses basket all in the same tent. thankfully the boys did great and we are going to have to start camping more often. we might wait until it gets a tad cooler though. we got lucky with the weather on friday and saturday because it really never got too hot. sunday was a different story though but of course it was still fun!

here is a funny jakson story about how smart he is getting. He is a
clear
example that it is caught not taught...

Jakson's cousins have paci's and about an hour after they left saturday night Jakson found one of their paci's. he picked it up, held it with his arm stretched out, ran up the camp site to the road where they had drove away and was running down the drive to go and find them to give them their paci back.

it was so cute!
and man has that boy started talking. He talks up a storm and has no clue why you can't understand what he is saying. We are slowly starting to catch onto some of his words but most of the time we just respond with, "oh really?!"
Sunday was our Father's Day celebration for all of the Father's in our family and my oldest brother josh's birthday!
(this is a picture i took of the boys last week)
the boys on Father's day...
he is such an amazing dad to our little guys. they are so blessed to have him for their daddy. every day when he gets home from work he gives me a kiss and then immediately gets on the floor to play with jakson and love on henry. at night he always gives Jakson his bath and puts him to bed with a sweet little prayer. when i was pregnant and didn't feel well or have any energy josh helped me out with everything whether it was cooking, cleaning or laundry.
thank you Josh for being the godly husband and father that you are to me and the boys. i thank the Lord for you everyday. You work so hard so that i can stay home with our boys. i love you more with every passing day and can't wait to see where the Lord takes our family. We love you!


(the boys after a fun weekend of camping)
i hope you enjoyed your weekend and told all the father's in your life how much you love them and appreciate them :)